Earthquake, August 23, 2011
On August 23, 2011 a magnitude 5.8 earthquake struck near Mineral, Virginia. The epicenter was just 2.7 miles south of our new house, map below.
We are pleased to report that the house sustained no structural damage. An exterior inspection revealed no broken windows, no cracks in the Superior Walls foundation or the Deltec shell, and the self-supporting truss roof is intact. An inside inspection showed that the roof trusses haven't shifted, and the sprayed-foam insulation has no cracks or fallen pieces. Drywall joints opened in several locations in the stairwell, and the drywall itself cracked near a door in the workshop.
This area has experienced only one other earthquake of magnitude 2 or greater in the past 200 years – a magnitude 2.5 event in 2004. Heck, we've had at least 18 aftershocks that were mag 2.5 or stronger.
There have been at at least 50 aftershocks since the main event, ranging from magnitude 1.8 to 3.9.
This map plots the earthquake and the aftershocks. Most aftershocks were 2.5 to 4.9 miles deep, but some were only about 300 feet deep.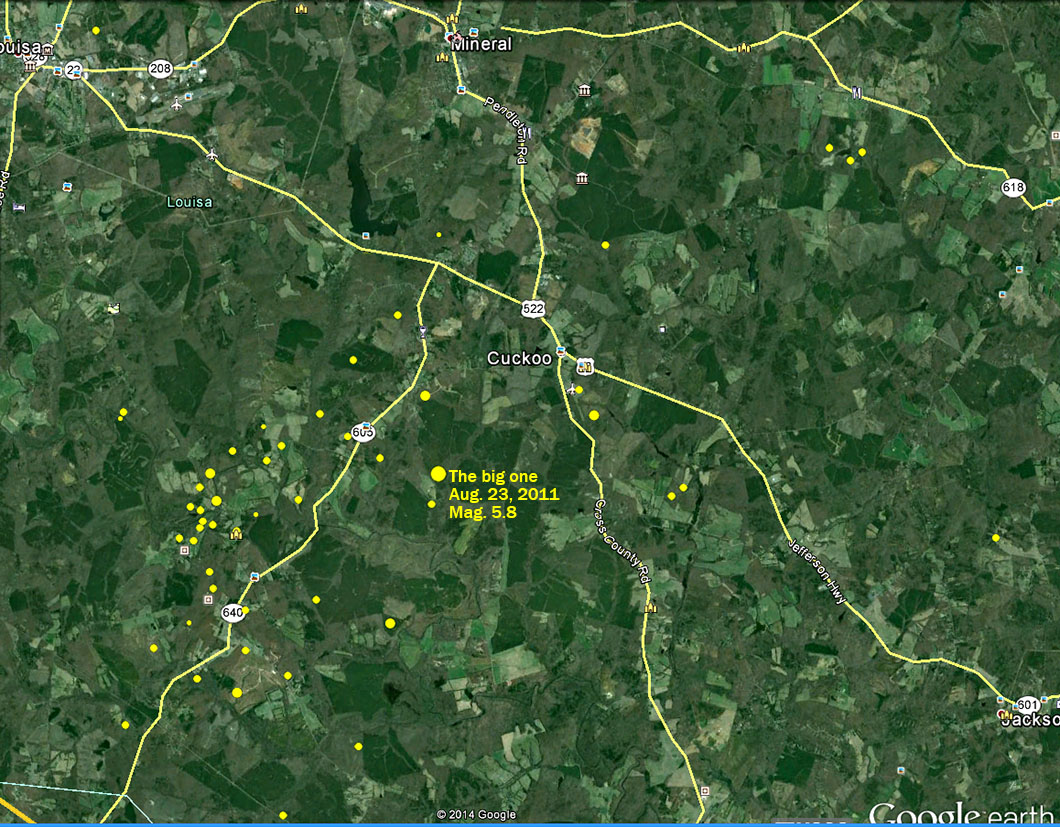 The quake was strong enough to dislodge pictures from walls and fling the tops from two toilet tanks onto the floor (chipped only – didn't break). The pantry spilled a couple dozen jars and cans. We spent several hours cleaning up broken glass from the picture frames and the spilled pantry contents. Mike still faces the task of sorting-out several thousand small electronic components that were dumped when two parts cabinets hit the floor in his office.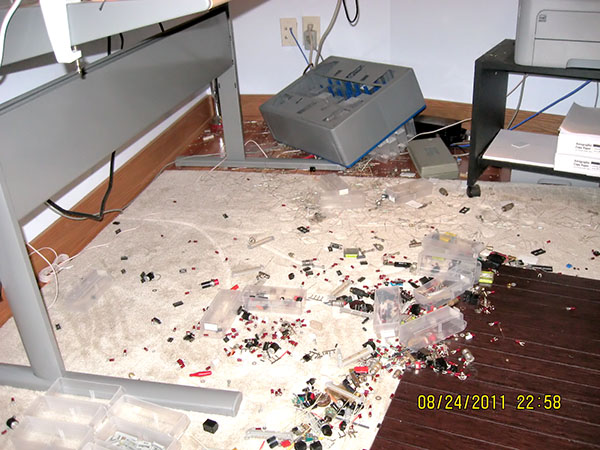 ---
Updated November 14, 2017